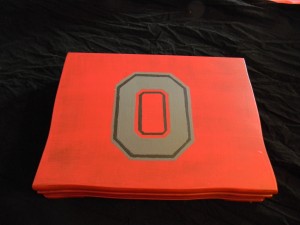 So, I've been a very busy bee this weekend. Yesterday was my husband's birthday party. One of the things he asked for (about a week ago, so no pressure) was a watch box to hold his rather extensive collection of watches. He'd like one that held twelve, he said, but he could make do with one that held nine.
Nice watch boxes are really expensive.
And I like to make things.
So…
I ran around all week looking for a box that would work, or a watch box at an inexpensive store, and found nothing. Just as I was about to give up and buy him something boring, like underwear, I stopped in at Goodwill on Friday afternoon and low and behold, they had a beat-up old silverware box for a dollar!
The wood was solid and the hinges were in pretty good shape, so I didn't let the Grandma's attic smell or the faded pink lining deter me. I went straight to the craft store and loaded up on supplies: ¾ yard of black velvet, a 15x20 inch piece of artists' mat board, E-6000 glue, and acrylic paints in gray and black.
Then came the fun part.
I have no dedicated "make stuff" space, so I usually just shut myself in the dining room and threaten bodily harm if anyone comes in. This time, though, I wanted it to be a true surprise. Alan (my husband) works an office job with office hours, so he's usually home evenings and weekends. Luckily for me, he plays poker every other Friday night, and this was his "on" night. There was also a kid function on Saturday that he had already committed to handling.
So, he left at 7:45 Friday night. I waited 10 minutes to make sure he wouldn't forget anything, then scrambled to work. I had managed to get the old lining out and the outside of the box sanded before he got home that afternoon, so I sanded and scraped out the inside (there was cardboard under the felt that was really, really stuck). Then I painted the outside with a coat of Glidden Candy Apple Red (I had a quart sample from somewhere) and put the box somewhere out of the way (a kid's room) to dry and started on the little pillows that the watches sit on. Note: It takes FOUR HOURS before you can recoat with that paint. Did I have four hours?? Ugh.
So anyway, I started on the pillows. These were ridiculously simple: I cut 4-inch wide strips, machine-sewed them down the sides, sewed across at 3.75 inch intervals, turned them right-side out, overstuffed them with polyfil, and stitched them. Except…
I was always taught that after you stitch and before you turn it right-side out, you trim the excess to make it neater. I had never worked with this kind of fabric before. Guess what happens when you trim the excess on a fabric that frays at the drop of a hat? Yep, every single seam came undone. I'm a little slow on these things, so it wasn't until after the third pillow did this that I figured out that I was not, in fact, incompetent, I just needed to stop trimming!
Once I figured that out I was able to get 10 of the pillows done before midnight, when it was time to recoat the box. I got the second coat on and the box re-hidden, then put away my supplies and called it a night at 12:45.
The next morning I hit the boards running as soon as Alan was out the door. First I used a completely toxic but very effective glue, E-6000, to glue down the velvet lining of the box. Here we have the Flaw I Didn't Have Time to Fix: the fraying edges. I'm planning to try Fray-check on it.
After that, I finished the last two pillows, hid everything again, and stopped to make lunch for the family. Once they were out the door, and I had run another child to and from ballet lessons, I printed an Ohio State Block O stencil and used my exacto knife to cut it into sections. I copied the stencil onto the box and used the acrylic paints to paint it.
Last but not least, I cut the mat board into sections and made the dividers, then put the pillows in and tucked the whole thing away to dry.
It was a fun project, and my husband was totally surprised (and thrilled, I think)! I did learn a few things that I thought I'd share:
Ventilation is your friend. Glue and paint, ugh.
Fabric that frays is a pain.
The magic eraser really is magic!
Um. So, I forgot for a couple of days there that I'm a blogger now. I dove right in to my project and never looked back. So there are zero before or during pictures. So number four would be don't forget the photos. Ugh.
Here's a picture of the inside of the box.