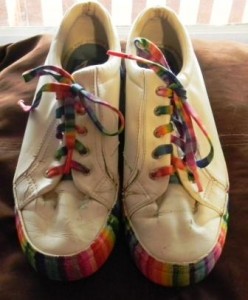 What can you do with an old pair of shoes, a new pack of Sharpies, and infinite patience? Well, if you're the very creative Scarlet, you do this!
Not only does the color pattern repeat exactly around the base of the shoes, the laces end in the same colors on each shoe.
These took her several hours of television time to complete. At one point, she couldn't find one of her markers - panic ensued! Luckily, it was recovered and all was well.
Here's a side shot: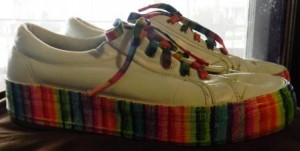 Sometimes she just amazes me.
P.S. Scarlet used the Caribbean Sharpie 24-pack, which I can't find a link for. This pack has similar colors:
Sharpie Fine-Tip Permanent Marker, 24-Pack Assorted Colors